ASICS GEL LYTE III UPCOMING COLORWAYS
Asics has given us a preview on a few color-ways in the Gel Lyte III's that will be on allot of peoples wish list. Asics has had a good year so far with the spring line featuring some dope color ways, its safe to say that whats to come up next from Asics should be pretty dope. Here we preview four color ways that are a refreshing alternative to the repetitive color-schemes we've been seeing lately. The first we have to preview is a Gel Lyte III that looks like and old/school La Laker inspired sneaker the shoes set-up as far as colorways gives these a vintage vibe. The Next GL3 we have for you guys is a leather and mesh match up that features a black upper with accents of orange and red sitting on a off white sole with black speckles. One of the most unique out of these four is the light grey/navy-blue and indigo-blue GL3's,the silhouette seams transformed with the use of a grey suede that cover 3/4s of the sneaker the other sneakers in this preview feature classic color-scheme designs a traditional balance between colors here they used a color and a material that made the whole shoe. The last sneaker were featuring is the most timeless out of the bunch a classic grey/navy-blue and red GL3 sitting on a nice white sole these are truly for a purist. Keep it locked to 8and9.com for more news on these upcoming color-ways in the Asic Gel Lyte III  and check out the gallery below for a better look at the sneakers described on above.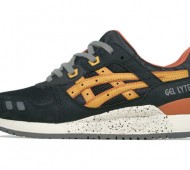 The post ASICS GEL LYTE III UPCOMING COLORWAYS appeared first on 8&9 Clothing Co..