Being that the chef is blessing our new home at the opening March 9th i feel its only right we highlight a few things that the chef has done for the culture that we can really appreciate. Today were taking a look at the release that took place @ West New York for the west New York x New Balance mt580 alpine edition. Owner of west NYC Lester Wassermann kicks off the video giving some insight on what the New Balance brand means too him and how his love for the sneaker is an old passion for him as he wore the brand growing up, also brakes down where the inspiration came from for the design of the mt580 simultaneously while lester is doing his interview clips of Raekwon enjoying a spliff while signing the boxes for the customers at the invite only release.The video is topped of with Reakwon performing the wu tang classic c.r.e.a.m , enjoy the video and stay tuned for more.
Click here to view the embedded video.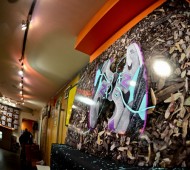 The post Raekwon The Chef x West New York New Balance appeared first on 8&9 Clothing Co..