For those of you who missed the last High Times Cannabis Cup last month Febuary 16th and 17th  San Bernardino Ca, here are the three winning entrees in the edible category @ The Cannabis Cup just to give you guys a taste no pun intended of the action you might of missed out on.
Fiirst place went to Kiva Confections from River City Phoenix .They made a heavy duty berry flavored chocolate bar that contains 180 mg of THC definatly not for the  rookie cannabis user . The medicated chocolate bar splits into four peices witch is grate cause it allows you to control the dose of THC you ingest. Each peice has 45 mg of THC made with the best medical grade Cannabis, also comes with lab results to insure your safety and satisfaction  The chocolate bar is decorated with a weed leaf dead center of every of the four peices that make up the chocolate bar giving it that official medical cannabis edible look.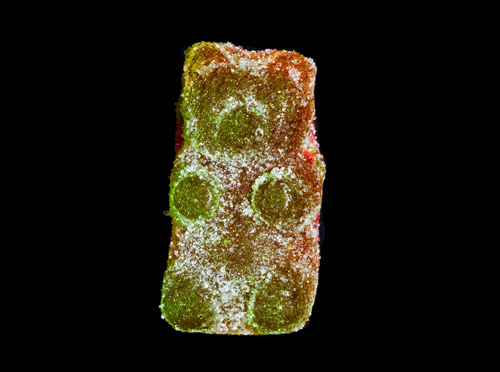 Second place went to sweet stone candy out of Michigan that took the second place trophy home with they're rasta colored giant gummy bear that contains a 50 mg dose of THC. They come in packs with two bears for those who might not be used to high doses of THC a half of a gummie bear is sure do the job. This is probably one of my favorites do too the fact im not much a fan of chocolate but to each his own right?
Third place goes too the Venice cookie company. They made a great strawberry lemonade, when it comes to edibles this is one of the newer ways to medicate for most people but also one of the more enjoyable. The lemonade contains 100 milligrams of THC. The recommended amount to first consume is half a bottle they advise everyone too wait 35 minutes minimum before taking another dose to insure your not over medicated. Hats of to the staff at Vvc for this refreshing and efficient form of medication. Also if your ever in Venice you cant leave with out trying one of they're (Original Cookie Brownies) speaking from experiences  these will make the pickiest edible connoisseur proud and satisfied, always remember medicate responsibly.
Here are a few others that fell in the top ten edibles from the Cannabis Cup picked by the Hightimes judges
The post Marijuana Edibles: Check Out The Winning Product appeared first on 8&9 Clothing Co..