The homie Freehand Profit has released some photos of the "Bin23″ Jordan 5 gas mask from his book( 'Army of the Undeadstock' ). Freehand Profit also gives us a little background on the mask and gives us some insight on whats to expect next from Freehand Profit.
Freehand Profit: "Even I cringed at the thought when my buddy Henry, known as the artist- DeathVSLife, suggested sacrificing his 'Bin 5′s to the Chopping Block last summer. As I've mentioned in interviews, the Vs are my favorite from the Jordan line-up and cutting up a high holy grail like the Bins was daunting.
"It's not unusual to find: the greater the sacrifice, the greater the reward. I was relieved to find that uber-premium materials that made up the 'Bin 23′ 5s also allowed for a premium quality mask. When I came across a gas mask with a clear silicone face piece I knew it would pair well with a pair of icy soles. While I worked I thought a lot about the story behind the shoes. Not just Tinker's P-40 inspriation that surely fuels my love for the Vs, but the story and concept of the "Bin 23″ Vs specifically. I heard it first from Henry as he handed his sacrifice over with confidence (I was less confident at that time and more in awe). This mask was an exclusive to my book 'Army of the Undeadstock' when it released last November. The Bin 5 mask traveled with me to Miami and was on exhibit with 8&9 Clothing Co during Art Basel, some of you may have spotted it in the interview that posted last week. It'll be the West Coast's turn to see this piece in person, it will be one of 11 other sneaker gas masks (and a 13th wild card mask) that will be at my first solo show 'Rise of the Undeadstock' at ROSEWOOD-SAN DIEGO" .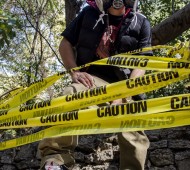 The post Freehand Profit's Jordan 5 "Bin 23″ Gas Mask appeared first on 8&9 Clothing Co..