Releasing July: Reebok Ventilator 2 Colorways
Checkout the Reebok Ventilator's set to drop next month. The Reebok Ventilator is a classic Reebok silhouette that was on a bit of a hiatus lucky for us Two pairs will be dropping next month that feature true summer color-ways and premium materials. The sneakers consist of suede and mesh in multiple over lapping layers giving the silhouette a unique look/ The first color we have to preview feels very beachy sea foam was contrasted by blue and accents of white and gray making for a clean color-scheme. Burnt orange, mustard and a dark blood red were also combined with small accents of white and gray throughout the shoe for the second color-way, the use of vibrant colors and dark colors contrast well and fit the summer season perfect. Checkout the gallery below for some more detailed look s of the Reebok Ventilator's releasing next month.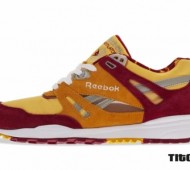 The post Releasing July: Reebok Ventilator 2 Colorways appeared first on 8&9 Clothing Co..