Releasing 9/14: Air Jordan 5 Doernbecher
Checkout the latest Jordan Doernbecher creation which features the Jordan 5 silhouette. The Jordan 5 Doernbecher is a tribute too Isaac Arzate who was apart of the 2012 Doernbecher freestyle program back in 2012. Isaac Arzate unfortunately passed away of a heart attack before his dream was brought to life. The sneaker was designed based off of what Isaac had designed as well as his interest and experience's which he wrote in his notes. Due to the fact that Isaac passed away before the design was finished, the Sneaker was finished with the help of the Arzate family with the Isaac's guide from his notes. The upper of the sneaker displays an inspiring poem in black light ink, written by Isaac the day before his passing. The Jordan 5 was given some alterations instead of baring the coveted 23 on the side they feature Issac's baseball number "9" and his basketball number "31". Also to further make this a tribute to Issac and the Arzate family Issac's initials date of birth and day of passing behind the Jordan 5 tongue. Besides the accents that pop up when under a black light the sneakers sole, side panel, lace eyelets and Jump-man also glow in the dark. Take a look at the gallery below for a better look at the Doernbecher Jordan 5  which will be hitting stores 9/14.
       RIP : Isaac Arzate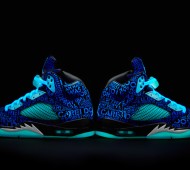 The post Releasing 9/14: Air Jordan 5 Doernbecher appeared first on 8&9 Clothing Co..