"What would have happened if…"
Five utterly innocuous and totally general words are enough for that person to interrupt me with two words—flatly stated, spot-on.
"Chris Paul."
Twenty-six months have passed since the Lakers had the deal done to acquire Paul from the New Orleans Hornets in a three-team trade sendingPau Gasol to the Houston Rockets and Lamar Odom to the Hornets. As much as has happened to the team in the past two years, CP3 going in and out still remains the missed shot at the forefront of the minds of Lakers staffers, executives and fans.
That trade on the eve of post-lockout training camp was agreed upon, but less than an hour later, it was blocked by NBA commissioner David Stern, whose office had assumed ownership of the Hornets and thus held the final say over what personnel decisions the Hornets made—even though Stern had never interceded before.
An NBA spokesman said then that the trade was stopped for "basketball reasons," but there was also an uproar among the owners of clubs in less glamorous markets about the Lakers both landing Paul and shedding payroll in the trade—immediately after those same owners had just reluctantly agreed to end a lockout meant to level the competitive playing field.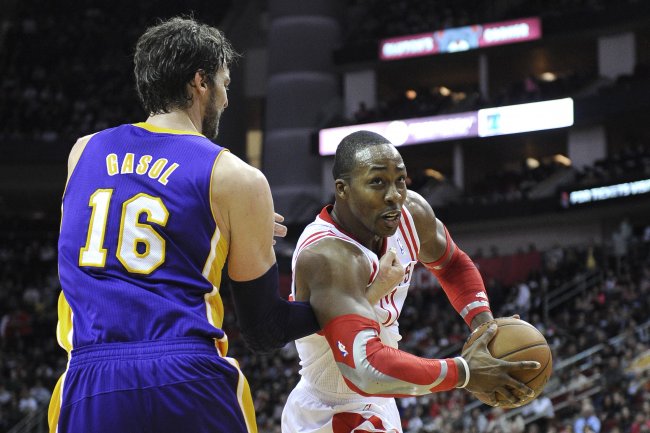 The Houston Rockets are in town Wednesday night to play the Lakers, and if the trade had gone through, the Rockets would be altogether different now—presumably led not by James Harden and Dwight Howard, but by Gasol.
Instead, Gasol still sits here by the shore, sweating the Thursday NBA trade deadline as the time the Lakers might finally ship him out.
The question of whether Howard would've become a Laker at all and might still be there is just one of many that are fascinating to consider. At heart, though, there is no arguing how poorly things have turned out for the Lakers without Paul.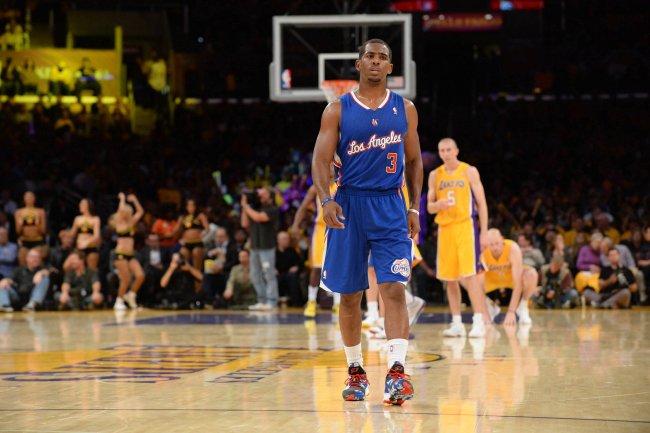 Everything is conditional, of course, and as much as writers and broadcasters like to say that a guy caught stealing cost his team a run after a subsequent base hit, every pitch would've been different, and it's faulty to assume that subsequent base hit would've ever happened.
As such, hypothetical scenarios are generally a waste of time. Yet the Paul trade looms as different and loftier because it was actually done and then undone:
A clear parallel universe was established…and then never allowed to exist.
How would that alternate reality have looked? Rarely do we get to do analysis that is both prospective and retrospective, but let's take an in-depth look and figure it out.
Would Dwight Howard have been the next player to become a Laker?
No, the next move for the Lakers would've been to get another power forward after trading both Gasol and Odom, and the guy Los Angeles was lining up was Michael Beasley of the Minnesota Timberwolves. The Lakers nearly picked up Beasley at the trade deadline months later, before Minnesota pulled out, but they would've gone after him harder without Gasol.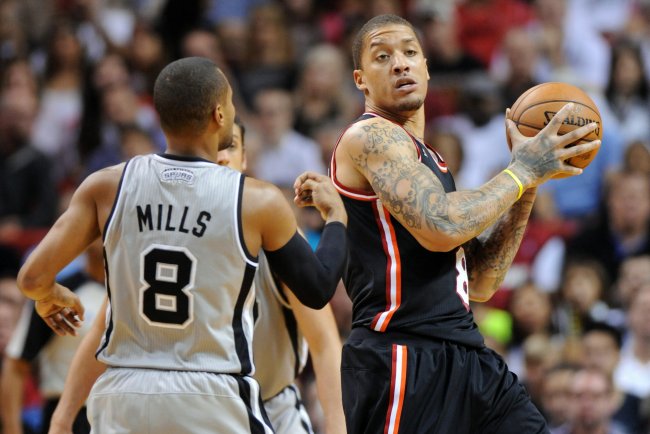 Beasley was available and a logical fit as a combo forward with three-point range who could score easily on the back side of defenses double-teaming Paul or Kobe Bryant.
Only 23 years old then, Beasley would've fallen neatly into the trade exception created by the Paul trade, probably at the cost of one first-round pick, and the Lakers would've tried to develop the potential that made him the second overall pick in the 2008 draft.
The reality is that Beasley has never received an opportunity as good as what the Lakers were ready to give him, and his career has not developed into anything special. He's struggling for minutes with the Miami Heat this season after ho-hum seasons with Minnesota and the Phoenix Suns.
It's more than likely the Lakers would've been disappointed by Beasley in 2011-12. They might've bumped up Metta World Peace to power forward and used Bryant more at small forward, opening up backcourt minutes for Derek Fisher and Steve Blake alongside Paul.
Maybe a guy such as Gerald Green, who failed to make the Lakers out of 2011 training camp, would've stuck and made good on some of all the potential they saw in him then. (Green bounced around instead and just scored 36 points for the Phoenix Suns on Tuesday night.)
The Lakers did sign Josh McRoberts as a free agent after trading the emotionally crushed Odom to the Dallas Mavericks in 2011, and it's possible that McRoberts would've been the guy to emerge the way he has this season for the Charlotte Bobcats as a versatile, sweet-shooting power forward who can cover a lot of ground on defense.
Would the Lakers have traded for Howard eventually? Absolutely.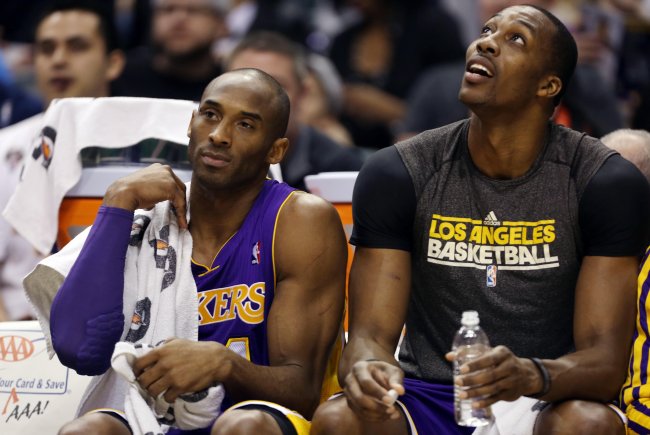 The Lakers brass has no doubt that they could've landed Howard after the deal for Paul despite the fact that Andrew Bynum didn't emerge as an All-Star until that 2011-12 season. To get Howard, the Lakers would've used all the future draft-pick sweeteners they wound up handing over to the Phoenix Suns in the Steve Nash sign-and-trade deal a year later. They also could've forked over the other first-round pick they burned at the trade deadline to get Ramon Sessions briefly to be a very poor man's version of Paul.
At the time, public belief was that the Lakers needed to give up both Gasol and Bynum to get Howard, but that wasn't true at all—as seen in them giving up mainly Bynum and one future first-round pick to land Howard in trade in August 2012.
Howard did get taken off the market by the Orlando Magic for a while in late 2011, but the Lakers believe they would've sent Bynum out and landed him sooner or later. The one caveat is a very real possibility that Bynum's brittle knees would've really cracked, which they did for the Philadelphia 76ers in 2012, at some point before the Lakers could flip him for Howard.
How different would Howard's Lakers tenure have been with Paul in place next to him?
This is the really compelling angle in this whole thing.
Howard and Paul grew close as 2008 Olympic teammates, and the Lakers were fully aware that there was open dialogue between the two about trying to become NBA teammates somehow. Knowing Howard's desire to play with Paul was an additional reason why the nullified trade was so devastating, leaving Lakers general manager Mitch Kupchak sitting in his office long into the night with Jerry Buss' longtime lawyer Jim Perzik.
The Lakers not only thought they had rebuilt to give Bryant a title contender in the moment, but they were also looking at having two 26-year-old established superstars in Paul and Howard, at the two positions that have been traditionally most valuable in basketball history.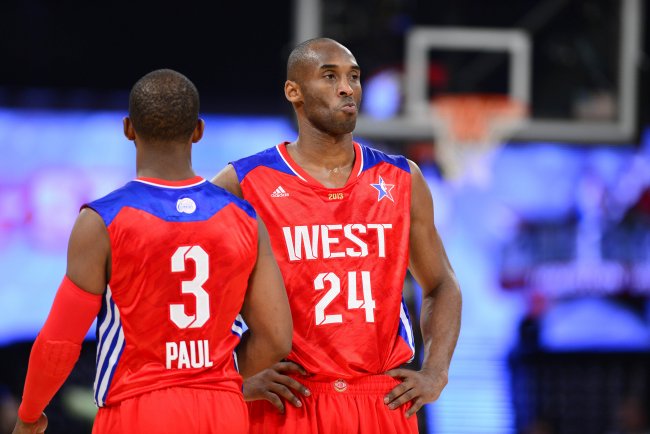 Howard turned out to be not all that the Lakers hoped last season, refusing to prioritize the team concepts over his individual ones and bucking at the idea of riding in Bryant's backseat. Like Bryant, Paul is a hard-driving leader, but unlike Bryant, Paul is the same age as Howard.
It's not difficult to see how Bryant's serious messages would be far better received from Paul, or how much more he could've gotten Howard to play the pick-and-roll ball he resisted last season with elder statesman Nash, who never did connect with Howard. The Paul trade, in all likelihood, would've altered the course of Howard's development, maturity and career.
With Paul around, there wouldn't have been that stigma Howard hated: following in Shaquille O'Neal's footsteps as Bryant's new partner in the Lakers' one-two punch. And the championship ring that Howard is seeking would obviously have appeared much closer with the Lakers. He might've even already been wearing rings before reaching free agency in 2013.
What would've happened to Kobe Bryant?
We know injury healing is hard enough to predict; predicting an injury happening is even harder. It is, however, fair to assume that Bryant would not have had such a burden placed on him in the two years after Phil Jackson's departure if Paul had been there to assume primary ball-handling duties. Maybe there would have been no Achilles tendon rupture, but who knows on that one.
Bryant accepted the arrival of Nash with the idea that it'd make Bryant's life easier. It didn't, with Nash—even when he wasn't sidelined last season—being shifted into a spot-up shooter role because Bryant was more adept at creating shots for teammates in Mike D'Antoni's offense.
As mentioned before, Bryant might've found himself moving to small forward as the Lakers developed a smaller, faster unit with Paul creating the shots. The X's and O's of fusing a great point guard with a great shooting guard remain a rarity in NBA annals, but the intangibles for the Lakers would've been phenomenal.
Even though Bryant and Gasol refer to each other as brothers since winning their titles together, Bryant's respect for Paul is absolutely at the highest level. Before the aborted trade, Bryant referred to Paul in New Orleans as "a dear friend" and described the 25-year-old Paul this way: "When it's all said and done, he'll be one of the best to ever lace 'em up."
What would've become of Pau Gasol with the Houston Rockets?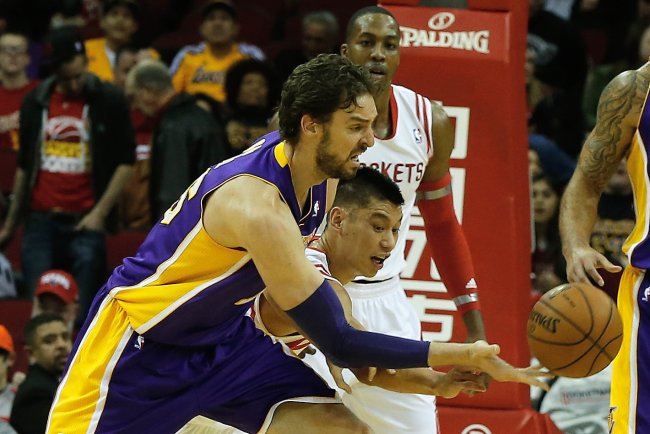 Much like the Orlando Magic went from being condemned as the big losers in the four-way Howard trade to the big winners, the Rockets were viewed by many pundits as the true losers when the Paul trade was blocked. Rockets general manager Daryl Morey thought Gasol was the top-flight player he had been unable to bring to Houston—in fact, Gasol was second-team All-NBA in 2010-11 whereas Paul was third-team.
It's safe to say that now having Harden, 24, and Howard, 28, is a little better than having Gasol, 33.
Patience is always one of the most underrated qualities a great personnel man must have. Kevin Martin, the most proven player Morey was giving up to get Gasol, was used a year later in the trade to acquire Harden from theOklahoma City Thunder, who couldn't re-sign Harden in a different but similar small-market quandary to what New Orleans suffered through with Paul. A year after that, Howard came aboard via free agency.
Gasol said Tuesday about possibly being traded by the Lakers now: "I'll continue to do what I've been doing with a great attitude and enjoy the game."
That's what he would've done for the Rockets, but would Gasol have proved to be much more than that? It's hard to envision after how inconsistent he has been in earning his massive paycheck for the Lakers.
Did owner David Stern do right by the New Orleans Hornets/Pelicans?
In the most backward of ways, yes.
In the Lakers' deal, the Hornets/Pelicans would've received Odom, Martin, Luis Scola, Goran Dragic and the 2012 draft's No. 16-overall pick—a pick that was used by the Rockets on Royce White, a bust who is the only one of the top 21 picks from that draft who is no longer in the NBA.
A jilted Odom was horrible for Dallas that season, and he would've sure had one wild time in New Orleans, one can accurately surmise. Maybe Stern foresaw Scola dropping off from an 18-and-10 guy, but Stern probably underestimated Dragic's ability to develop into much more than Sasha Vujacic's Slovenian foil.
Ultimately, the Hornets held out for what was a more future-oriented trade package from the Clippers for Paul. (For his part, Paul won one fewer regular-season game than the Paul-less Lakers in 2010-11, and both the Clippers and Lakers lost in the second round that year and the first round the year after that.)
The Hornets were hailed as wise to hold out for Eric Gordon instead of Eric Bledsoe from the Clippers, though that doesn't look too good now given Gordon's ongoing knee issues. Chris Kaman had and Al Farouq-Aminu is still having little impact in New Orleans. The precious pick the Hornets extracted from the Clippers in that Paul trade wound up being the No. 10 overall selection—used on Austin Rivers, who had a brutal rookie season and hasn't earned much playing time this season.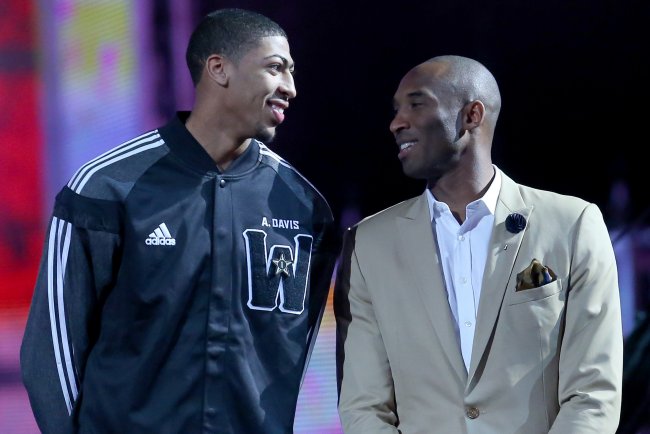 The only thing that wound up working perfectly for the Hornets was that they were horrible immediately without all those proven players the Lakers and Rockets were set to give them but Stern refused. New Orleans went from winning 56 percent of its games to 32 percent—with only the seven-win Charlotte Bobcats posting a worse record. That was bad enough for the Hornets to beat out the Bobcats in the draft lottery and pick franchise cornerstone Anthony Davis with the first overall selection.
Welcome to today's NBA, where the tanking teams learned to game the system and compromise present-day competitiveness from the commissioner's own office.
Would the Lakers, not the Heat, have won the 2012 and 2013 NBA titles?
Man, just to have gotten the LeBron versus Kobe heavyweight championship bouts we've never seen would've been something. But a core of Bryant, Howard and Paul absolutely looks fundamentally stronger than one of LeBron James, Dwyane Wade and Chris Bosh that we know became the best.
There is more to a team than its stars, including the rather weighty matter of whether Mike Brown (or D'Antoni) could've coached the Lakers to the crown.
But filling in the Lakers' gaps around such a dominant shot-blocker as Howard and a dynamic steals maven as Paul, with all that Bryant still could offer, is a dream compared to the nightmare of picking up the Lakers' pieces and broken bodies in this all-too-real world.
Gasol joked Tuesday about "a lot of pages and f—–g airtime" that have been burned via the topic of him being traded, even though he never officially has been.
Well, looking back on the one time he semi-officially was—and all that was set to happen when he was—is remarkable.
It's often said it takes years to judge a trade. We've now had more than two years to judge this non-trade, and the feeling on the Lakers' end is indeed the same as that late night of Dec. 8, 2011, when someone gazed upon Kupchak in that office and described him as "angry and mystified."
The Lakers have no idea how long this rebuilding is going to take.
They just know it was once all taken away.
The post Lakers Rebuild was Destroyed by Failed Chris Paul Trade appeared first on 8&9 Clothing Co..