In case you are not familiar with the story, Trayvon Martin, an African American teenager was fatally shot by George Zimmerman, a 28-year-old neighborhood watch captain, in Florida recently. Supposedly, Trayvon Martin was walking to his father's girlfriend's home from a convenience store when Zimmerman followed Martin and detected what he called "suspicious" behavior. It has been reported that Zimmerman shot and killed the teenager afterwards although Martin was unarmed. Despite all of this, Zimmerman was not arrested.
In honor of the late Trayvon Martin, the Miami Heat took a team portrait, which sees the entire roster draped in hoodies in reference to the sweatshirt Trayvon wore on the night of this happening. To show further support and raise awareness, LeBron James and Dwyane Wade laced up their respective signature sneakers as usual, but this time both players had honorary messages of support for Trayvon Martin on their shoes in last night's game against the Detroit Pistons. Specifically, Wade's debut of the Jordan Wade Flight PO featured the words, "RIP Trayvon Martin" and "We Want Justice", while King James' Nike LeBron 9 PE only featured the former message mentioned. View close-up photos of these sneakers below.
VIA NICE KICKS
Follow 8and9 Streetwear!!!!
TWITTER
FACEBOOK
TUMBLR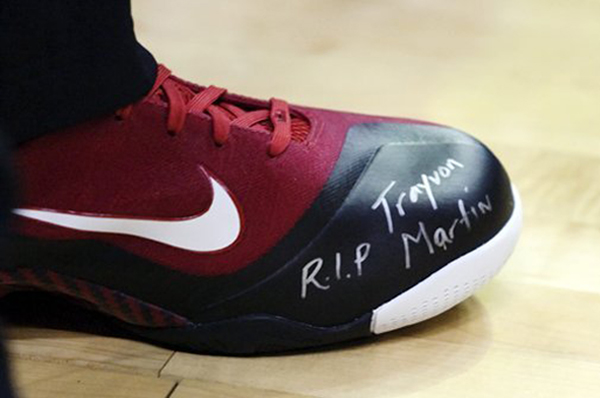 The post Dwyane Wade, LeBron James Honor Trayvon Martin with Shoes appeared first on 8&9 Clothing Co..