The 10 Top Dead Celebrities Still Making Millions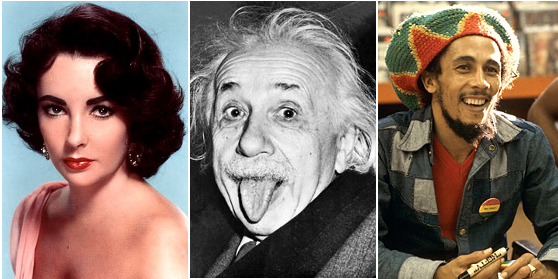 Some people can work their whole lives and never make the kind of money they wish for and then there are some celebrities that have passed away and can still rake in the dough. Forbes put out its annual list of celebrities who are earning millions even after they've passed away.
Check out the list:
10) Steve McQueen
Although this actor died 32 years ago, his coolness factor is still alive as ever. Limited edition Steve McQueen Triumph motorcycles go for $10,000 each, while brands such as Tommy Hilfiger and Persol have taken to his likeness to add a cool factor to their brands. He also serves as an ambassador for Tag Heuer with living stars Cameron Diaz and Leonardo DiCaprio. All this helped to rake in a very cool $8 million for the late actor during the last twelve months.
9) Theodor Geisel
The children's book author passed away in 1991 at the age of 87 but left a lasting legacy. Dr. Seuss continues to be one of the most beloved children's book series, and Hollywood has cashed in on the genius of Geisel. The Lorax, which is based on one of his tales, made $341 million last year. In addition, a new The Cat in the Hatmovie is currently in development. How much money did Dr. Seuss' estate earn last year? A comfy $9 million.
8) Albert Einstein
As Forbes rightly pointed out, "Einstein owns 'smart.'" He's your guy if you want to associate your brand with being smart. He's also the guy who is number eight on this year's list with $10 million to his estate. The quirky, lovable and respected late scientist's theory of relativity will have its 100th anniversary in 2015, which is sure to up his earnings.
7) Marilyn Monroe
She was one of the biggest stars in Hollywood and even half a century after her death, she is still marketable. Last year Authentic Brands Group bought the rights to Monroe and planned a major branding reboot, which brought in $27 million in earnings. Forbes only looked at licensing money for the list, which was $10million this year, but predictions are ABG's rebranding will bring in even more money in the coming years. A line of Monroe spas and a café line are currently in testing.
6) John Lennon
The legendary Beatle icon and activist was killed in 1980 at the age of 40, but still continues to bring in money. Since 1992 albums on which the artist performed or wrote songs for have sold 63 million copies in the U.S. alone. He also has a Cirque Du Soleil show fashioned after his work and licensing agreements with companies such as Cisco. All this helped the late Beatles star earn $12 million over the last 12.
5) Bob Marley
The Reggae icon died in 1981 at the young age of 36. Since then he has sold millions of albums, and more recently added a Beverage Company – which sells the "relaxation drink" called Marley's Mellow Mood – and House of Marley, a company that produces eco-friendly audio and lifestyle goods. Just over the past year, the "One Love" singer earned $17 million.
4) Charles Schulz
The creator of the beloved Peanuts comic strip died in 2000 at the age of 77. He probably didn't expect that more than a decade later his estate would still be earning enough to make him fourth on this year's list. Over the last 12 months licensing and advertisement deals brought him $37 million. Additionally, Fox's animation studio, Blue Sky, announced earlier this year that aPeanuts movie is in the works, which will only add to the estate of Charlie Brown and gangs' creator.
3) Elvis Presley
The King of Rock n' Roll came in third in the postmortem earnings list at $55million. Although it's a good amount lower than the celebs who took the top two spots, it's still plenty impressive considering Presley passed away back in 1977. He benefited from a Cirque De Soleil show called "Viva Elvis," which used his music and likeness. Although the show closed due to weak ticket sales, a higher than expected attendance at Graceland made up the loss.
2) Michael Jackson
The King of Pop is still at the top. Although he died in 2009, Michael Jackson earned $145 million dollars in the last 12 months – that's more than any living artist made over the same time period. His name raked in the millions in part through The Cirque Du Soleil "Immortal World Tour," which was North America's highest grossing concert tour earlier this year, as well as through his 50 percent stake in the Sony/ATV publishing catalog and his own Mijac Music catalog.
1) Elizabeth Taylor
The legendary actress died last year at the age of 79 but she still managed to be the top earner in this category, bringing in $210 million this year. After her passing, a series of record-breaking auctions put up relics of her life and films on sale and earned an astonishing $184 million. The auctions took place in New York and London and sold items such as Taylor's Cleopatra wig from the 1963 movie for $20, 315 and a Van Gogh painting which was the most expensive item sold at a cool $24.6 million
Via http://firsttoknow.com
The post The 10 Top Dead Celebrities Still Making Millions appeared first on 8&9 Clothing Co..