The Jordan 8  "Bugs Bunny's" are making there way back to the sneaker game. the Jordan 8 release has been one people have been anticipating set to release this month April 20th. The Jordan 8s is a sneaker that Jordan heads love and is one of the Jordan's that Jordan Brand has made few colors in compared to most Jordan silhouette. The sneaker is mostly white with accents of red,black and grey. Jordan's like these are classics to Jordan heads and having one pair sometimes isn't enough I'm sure fans who scored a pair from the "countdown" pack are still eager to get they're hands on these 8s.
Expect long lines and scarceness with this Jordan 8 release. Although the sneaker has been retrod a few times it is still a very sought out for sneaker. The shoe originally was released in February of 1993 back than the shoe retailed for $125 which was allot in those days and to some still is. The shoe was a hit when the Jordan 8 released. It had technology that at the time changed the game designed by Tinker Hatfield who designed many of the Jordan's and also the Nike Air Raids which released the same year as Jordan 8's. The Air-Raids bare a big resemblance to the Jordan 8's, they have the same build and feature the straps that the 8's are known for and some pairs even sported a peace sign just as the 8's feature on the tongue with the Jump-man over it.
The Jordan 8 released once again ten years later in March of 2003 i guess they added a dollar for every year since its debut because the retail was $135 ten dollars more than it was in 1993. The shoe also resurfaced when Jordan brought out the countdown packs they released a pack every months that contained two sneakers.The Jordan 8 released in the countdown pack were released with a pair of Black and red 15's.The sneakers will continue to make noise being that the Jordan 8 release is April 20th people are gearing up for the day they drop. For some the shoe dropped on the worst day 4'20 i guess those of us who celebrate the Ganja based holiday will have to prioritize or manage consumption. Don't forget the Jordan 8 release April 20th stay tuned to 8and9.com for more on these and much more.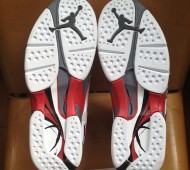 The post Jordan 8 release: April 20th appeared first on 8&9 Clothing Co..