Supra has introduced a new color-way in they're Royal Falcon silhouette. The new Royal Falcons are a part of Supra's "Royal collection" which is they're collection they offer to the stores with the highest Supra accounts. The shoes feature black pony hair giving it a silky smooth look, these are more on the high-end fashion side. The shoes also feature a pinkish infrared lining with a white sole. The Supra Falcons look like they drew some inspiration from the Kanye West x Louis Vuitton "Dons".which may be one of the  reasons for its success. The sneakers are very clean n highly fashionable,they are flashy and at the same time quiet simple.
The Supra Falcon is a super clean silhouette that show's very little branding and would be over looked as a Supra and could easily be mistaken for a expensive high-end luxury sneaker. The first time we saw the Falcon was the Peanut butter color way from the "Supra Royalty Collection" and was an instant classic. The pony hair's will be a nice addition to the Falcon Family and will continue to change the game with this sleek silhouette.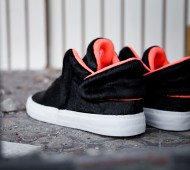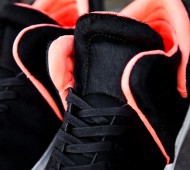 The post Supra Royal Falcon – Black Pony Hair appeared first on 8&9 Clothing Co..