The Lebron 10  "Denims" are set to release on April 26th Nike has finally provided a release date. Fans have been anticipating the release of the Lebron 10 "Denim" since the first images were released a few months back. The sneakers were first seen when Lebron James wore the Lebron 10 Denims and put the pictures up on his "Instagram" page. At first people thought it was only a "PE" until some more images and information was released now fans cant wait to get their hands on these Lebron 10 "Denim's".The weekend of April 26th will be a big one for Lebron fans because of the numerous Lebron sneakers  being released that that weekend, on the 26th the Lebron 10 Denims will release , Lebron 10 Brown Suedes and both of the NSW Lifestyle Lebron 10s will be dropping. With four pairs of premium must have Lebron's releasing on the same day its going to be quite difficult to make a decision on what to purchase.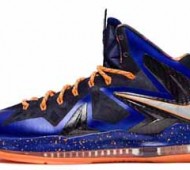 The following day April 27th two more pairs of Lebron 10's will be available the Bright Citrus/Hyper Blue Lows and the Lebron 10 Elite's from the "SuperHero" collection. All around it is a big month for sneakers with more sneakers dropping this month than in recent months retailers should be happy. Even though their are many shoes dropping this month the the Lebron 10 "Denims" are probably the most sought after. NikeSportsWear teamed up with Nike's basketball Devision to bring you another great Lebron 10. The Corks where a product of their work together and these were designed to be just as great. A denim upper that was smooth almost seamless really transformed this basketball silhouette. The leather brown tongue ,rounded laces and lining give the sneaker a real luxury that work well with pink eyelets that perfectly tie in the same color pink sole with an air bubbles outsole. Don't forget April 26th the Lebron 10 "Denim's" are keep it locked to 8and9.com for news on this and much more.
The post Lebron 10 "Denim" Release Date appeared first on 8&9 Clothing Co..