Air Force 1s have been popping up left and right lately. The latest Nike collab featuring Liberty London presents us with three Air Force 1s covered in Liberty Londons amazing fabrics. Liberty and Nike had many previous collaborations and the collaboration that sparked this one was the first Liberty X Nike Air Force 1 "Downtown" High which featured a dark version of Liberty London's Denise Eva fabric.
For the latest collaboration between the two brands Liberty used three premium fabrics each completely different from each other, the first Air Force 1 out the pack features a white upper with different color streaks running through out the white fabric.The check, laces and the lining are are a color Nike is calling Midnight Turquoise that contrast nice with this all over print Air Force 1. These will have the market going nuts once they drop soon they will hit U.S. retailers for now we can admire these amazing Air Force 1 online.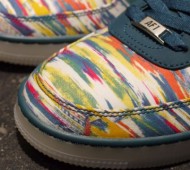 With the recent obsession in street-wear with tiger stripe camo these came in perfect timing. Liberty used a tiger stripe camo containing different hues of blue making for really good use of the Air Force 1 silhouette. The Laces, lining and check on these are contrasted by "Dark Obsidian" which works great with the multiple blue hues in the tiger stripe camo fabric. The Air Force 1 sole was a little different the other two that feature similar transparent cream sole's these are more on the light raspberry side and they still feature the translucent look.
The last but not least in the Air Force 1 Downtown pack feature a multi color paisley fabric that includes the colors purple,orange,yellow,red and different hues of those same colors. One detail we can see throughout the whole pack that is present in each shoe is,  the use of a strong color in the accents to contrast the all over prints .This sneaker featured a Grand Purple that was used as the contrast color. The purple really compliments the cream translucent like sole making these look like something out of fashion week. keep it locked here at 8and9.com for a US release date and locations where they can be purchased.
The post Liberty x Nike Air Force 1 Downtown Pack appeared first on 8&9 Clothing Co..