Check out: Nike Solarsoft Moccasin's "Texture Pack"
Summer is around the corner, and Nike has given us a preview at what to expect this summer from the Solarsoft Moccasin's. Nike is releasing the "Texture Pack" the colors they used really embodied the summer vibe with a Teal/orange pair that is probably going to sell faster than the other two, a teal upper made of synthetic material and mesh are accented by orange in the lining and swooshes, also an extra dose of brown can be seen on the heal that works well with this color combo. The green and blue Solarsoft Moccasin's are probably my favorite out group this one actually looked a little more on the easter side A unique green upper using the same synthetic material as the first has small blue.white and black accents Nike used the Solarsoft Moccasins silhouette to perfection keeping it simple clean but, giving it a rather loud color scheme. Black and pink i know this color scheme was a little left field considering the other two in the "Texture pack" the use of a pink and white accents to bring life to the blakish charcoal upper was a good decision . These have a more night time vibe wonder if Nike had the same intention? Check out the gallery below for some more detailed images and see if these Nike Solarsoft Moccasins will be on you feet this summer.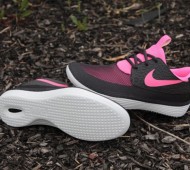 The post Check out: Nike Solarsoft Moccasin's "Texture Pack" appeared first on 8&9 Clothing Co..