Converse Pro Leather Nautical
Converse had just released they're new Pro Leather Nautical which is a mix between a Converse Pro Leather mixed with a boat shoe the sneakers have a high fashion feel and are a great addition to the Pro Leather family. The shoes upper is a light blue color with the material given a vintage affect which works well with the off-white accents. The boat shoe aspect of the shoe can be seen on the side panels their are strings that run through it like you would see in a classic boat shoe also the shape of the toe box was reinvented to mimic the toe of a a boat shoe. Stay tuned here at 8and9 for more from Converse and take a look at the close ups in the gallery below.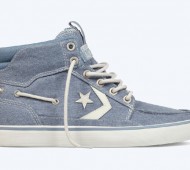 The post Converse Pro Leather Nautical appeared first on 8&9 Clothing Co..