8&9 Clothing #420 Look Book [Pics]
@8and9 8&9 Clothing a Miami based street lifestyle company has released their 420 Collection and accompanying look book. Aside from 420 inspiration the latest prints draw from 8 Bit Nintendo and OG Atari games. Smokers will appreciated Medicated tees and snap backs. 8&9 also serves up a dope set of Peacock, Bud and Nintendo themed unisex 5 Panel Strap Back Campers.
The 420 theme is prevalent in 8&9's latest collection. Fans of the rapidly growing streetwear brand know to expect monthly collections and quick strike releases. For more or to shop checkout www.8and9.com follow @8and9 on Twitter or Instagram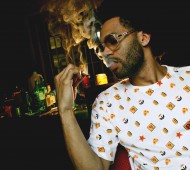 The post 8&9 Clothing #420 Look Book [Pics] appeared first on 8&9 Clothing Co..