Restocking This Weekend "Ewing 33 Hi"
Jordan isn't the only one restickong some heat this Memorial Day weeknd Ewing Athletics is restocking three highly sought after 33 Hi's. The blue suede, red suede and white leather "knicks home" will all be hitting select Ewing 33 retailers, just like when they were previously released they will sellout so hit your nearest retailer and grab a pair. These were  big release, as it was the first time in over a decade since the Ewing 33 Hi had been released. Checkout the gallery below for some looks of the sneaker and remember they will be hitting retailers this weekend.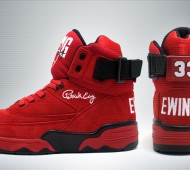 The post Restocking This Weekend "Ewing 33 Hi" appeared first on 8&9 Clothing Co..