First Look: Nike SB Dunk High Yellow
Nike SB has been kicking up some dope designs lately, looks like they're back to their old ways, with every recent SB looking better and better. The SB Dunks we are previewing today are unique in the sense that we have never seen an SB like this, in fact if it wasn't for the SB branding on the tongue you wouldn't even consider them SB's. The combination of this premium leather and nylon was never used on a SB Dunk. Also the main factor making these so different is that they are missing the coveted round SB laces instead these feature flat laces with accents of 3M. Not sure if this is to become a standard, but i hope not eliminating round laces of SB's is like taking the number 23 and the jumpman logo away from jays. Either way these are dope sneakers great material perfect summer color, i just hope that the lace change is part of a series or a collab. Checkout the gallery for a better look and keep it posted here at 8and9.com for more info.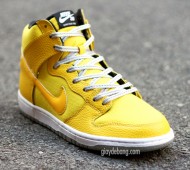 The post First Look: Nike SB Dunk High Yellow appeared first on 8&9 Clothing Co..