Fall/Winter Preview: Vans
Its summer time and that means two things summer releases and fall/winter preview's. The latest preview we have for you is from Van's which feature's some classic silhouette's and some of the newer addition's to the Van's family. The shoes featured in this preview look like premium's so dont expect to see them at your regular Van's retailer's, most likely these are exclusive to retailers with a Van's Vault account. Each sneaker features only the dopest material bringing even more life to some already amazing silhouette's. Checkout the gallery below for yourself and see if these upcoming Fall/Winter release's will be on your holidays wish list. Keep it locked here at 8and9.com for more info and updates.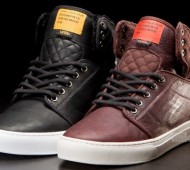 The post Fall/Winter Preview: Vans appeared first on 8&9 Clothing Co..