Checkout:Nike Flightposite "Zebra"
Checkout these Nike Flightposite's that feature no zippers and an animal print rarely used by Nike. These Flightposite's have an interesting choice of colors and an interesting design, a silver and black foam zebra upper was contrasted by black suede and a bright red that can be seen throughout the sneaker. Usually when you see an animal print on a sneaker its almost always displayed very big looks like Nike took a different approach this time using a down sized zebra print that works well with this silhouette. Another interesting thing about these sneakers is the fact that Nike didn't use the zipper that we would usually see on the Flightposite silhouette. Checkout the gallery below for some more detailed images of these mysterious "Zebra" Flightposite's. No official word yet on what these are  so keep it locked here at 8and9.com for more images and info. Who knows these could be anything samples, a pair of PE's or an upcoming release, either way check out the blog for more update's as they develop.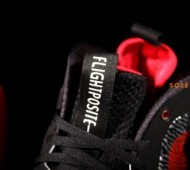 The post Checkout:Nike Flightposite "Zebra" appeared first on 8&9 Clothing Co..