8&9 Clothing was definitely in the building this past weekend for SneakerCon Miami. The event was crazy, with heat as far as the eye could see. SneakerCon had it all… from Yeezys to Lebron MVP's to incredible customs and even a few pairs of Air Mags.
Mother nature was not very cooperative and hit us with batches of light -medium rain all throughout the day. But, us sneakerheads are a resilient bunch. We ride out for our kicks regardless of the weather. Some even came prepared with plastic bags wrapped around their shoes to protect their icey soles and patent leather. Free parking and a 20$ admission fee probably contributed to the huge turn out. The arena was packed leaving almost everyone who entered hot and sweaty. The music was blaring with an in house dj posted above the crowd. SneakerCon had over 100+ vendors with everything from socks to match your kicks to sneaker air fresheners. Also, the majority of people who attended brought a box or two of kicks to sell/trade so with all the vendors AND everyone's personal picks… the hype was justified. 8&9 rocked out with a full booth set up in one end of the arena with a guest appearance by Freehand Profit. Freehand Profit ended up attracting a crowd while chopping and crafting another one of his masterpieces this time out of a pair of Lebron 10 Christmas'. Li-Ning was out and about unleashing the Way of Wade. This was the first time the U.S got a chance to get their hands on Dwayne Wade's signature shoe and they sure did. Their entire stock was sold out within the hour. Randy Mims came through rocking the Lebron X Low "2-Time Champion". (Just another advantage of the Heat winning.) Bottom line…if you didn't make it, you missed out. No if's, and's, or but's. Check out some of the pics of what went down at SneakerCon and Freehand Profit doing his thing via instagram.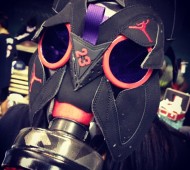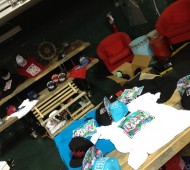 The post SneakerCon Miami Recap appeared first on 8&9 Clothing Co..