Releasing August 24th: Adidas Mutumbo
Finally after months of waiting and countless pictures we have a release date for the classic Adidas Mutumbo set to hit retailers August 24th. The Adidas Mutumbo is one of the most sought after sneaker that hasn't been re-introduced to the sneaker game, most of the great sneakers of that era have been release so it was only right to bring the coveted Mutumbo sneaker. The OG Mutumbo color-way was a great design, the upper  is white an black with accents of red, yellow, and green along with the Tribe design that the Mutumbo silhouette is known for. Take a look at the gallery below for a better look at the Adidas Mutumbo. Keep it locked here at 8and9.com for more info and don't forget the Adidas Mutumbo  hit stores August 24th.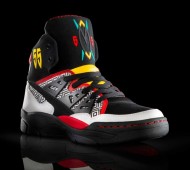 The post Releasing August 24th: Adidas Mutumbo appeared first on 8&9 Clothing Co..