In Stores Now: "Bel Air" Jordan 1 Mid
The Bel-Air Jordan collection is arriving at retailers, and today we wanted too give you a look at the Jordan 1 Mid's that are apart of that collection. The "Bel-Air" Jordan 1 was the most subtle sneaker in that collection although the sneakers color-scheme is eye catching its not as loud as some of the other sneakers in that collection and it does not feature the Bel-Air prints. The Jordan 1 Mid's upper was decked out in royal blue and black accented by flash lime and court purple and small hints of pink. We've seen the Jordan 1 in many different forms and variations, and for the Bel Air Collection Jordan Brand chose to use the Jordan 1 mid coming off of a hiatus. Take a look at the gallery below for a better look at these "Bel-Air" Jordan 1 Mid's.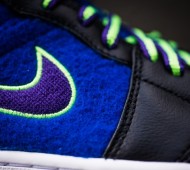 The post In Stores Now: "Bel Air" Jordan 1 Mid appeared first on 8&9 Clothing Co..