Releasing 10/19: "Bel-Air" Jordan Six Rings
Missed out on any of the previous Bel-Air Jordan's ? No sweat the "Bel-Air" Jordan 6 Rings will be dropping next weekend on October 19th. The Jordan 6 Rings was on a hiatus with the exception of a few winterized versions. For the 6 Rings re-introduction Jordan Brand chose to throw it in the mix with the Bel-Air collection along with the Jordan 1, 5's and the rest of the Bel-Air collection. The "Bel-Air Jordan 6 rings are right behind the fives in-terms of design and color distribution making it one of the stand out sneakers in this collection. It was smart for Jordan Brand to drop these after the rest of the collection giving them their own platform so to speak. Checkout the gallery below for some detailed looks at the Bel-Air Jordan 6 Rings, and keep it locked here at 8and9.com for more from Jordan Brand and the Jordan 6 Rings silo.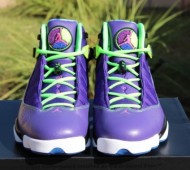 The post Releasing 10/19: "Bel-Air" Jordan Six Rings appeared first on 8&9 Clothing Co..