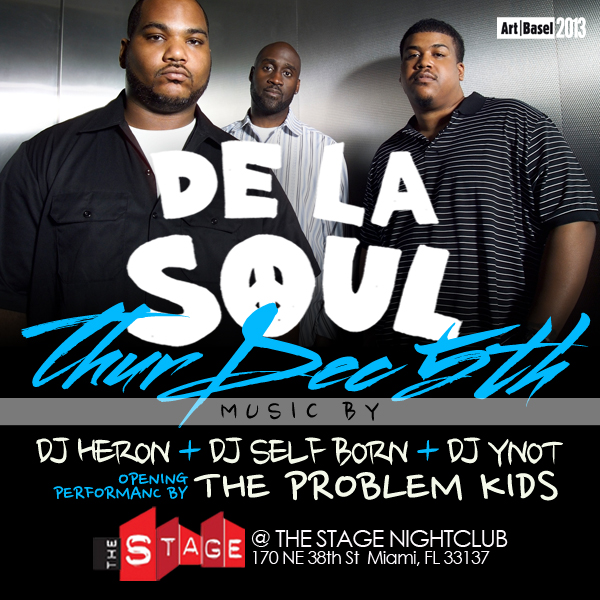 @TheStageMiami @WeAreDeLaSoul Art Basel week is the time of the year when the vanguard of the art world converges on Miami Beach. This year, The Stage Miami will be presenting a gallery of the best of old school hip hop and new urban sounds during the height of Art Basel, featuring De La Soul on Thursday, December 5, the Wu-Tang Clan's Ghostface Killah on December 6 during Beats & Rhymes Fridays and Black Violin onSaturday, December 7, among others.
Now in their fourth decade of performing together, the trio from Long Island known as De La Soul will be making the their debut as a group at The Stage on Thursday night, December 5. Although the group is probably best known for their 1989 debut 3 Feet High and Rising, they have continued to write, record and perform together since, charting multiple singles and albums throughout the 90's and 00's. They are currently at work on an eighth studio recording. Opening for them will be DJs YNOT – Heron – Self Born – Klassik.
The post Dec. 5th De La Soul Live At The Stage For Art Basel Weekend appeared first on 8&9 Clothing Co..