Ewing 33 Hi Sneaker Gas Mask
If you attended the latest Sneaker Con NYC then you were able to see the "Red Suede" Ewing 33 Hi Sneaker Gas Mask done by @Freehandprofit in person. Thousands of people came to check out Sneaker Con and we brought out Freehandprofit to showcase some of his dopest masks and sneaker art. I first announced this collabo right here on our blog at the end of last year, so I know many of you have been patiently waiting, and asking me about it on my Instagram, Well by now you may have seen the mask in full detail, but just in case you haven't, here are pics from the photo shoots we did in NYC right around Madison Square Garden. Let us know in the comment box how you feel about this 8&9 x Freehandprofit collabo!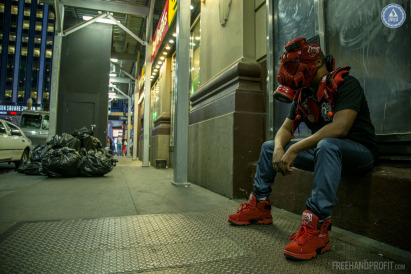 Ewing 33 Hi Sneaker Gas Mask
*It's good to note here to folks new to the work, although you see it worn, these are not intended as fashion but are both art objects (the sneaker mask) & fine art photography. You can find out more about what the work means by clicking here.

The Ewing 33 Hi "Red Suede" Gas Mask is the 84th sneaker gas mask that I've created but the very first one to feature an accompanying shoulder harness – a step towards the full body sneaker armor I have plans for. Figgs had sacrificed 2 pairs of his beloved "Red Suede" 33s to my Chopping Block – normally 2 pairs can mean more creative control and a more interesting mask simply because I have more material to work with but the Ewings were plentiful in materials and I found myself with a surplus of materials and a chance to do something I've always wanted to do. And being that Figgs and I are 8&9 family, it also gave me a chance to include an 8&9 woven label into the shoulder piece.

 
Check out the full blog by Freehandprofit here.