Sneaker Con Chicago Recap October 2014
Sneaker Con returned to Chicago for the last time in 2014 this past weekend at the Armory on North Broadway. This is the 3rd or 4th time we've hit up Chicago with Sneaker Con and it's always a blast. Thousands were in attendance to buy, sell and trade their favorite kicks and hang out among other sneaker heads. As always, Chicago brought out the heat. I had a chance to take a quick stroll around before it got too crazy, and a few times during the organized mayhem. It still trips me out to see how many new comers there are at these shows, one guy said to me " Isn't it crazy that there are thousands of people here and not one person gets their shoes stepped on?" I laughed and agreed.
This is the first time we've brought Freehandprofit to Chicago and the love Chicago showed was overwhelming! Freehand brought new custom lace locks, key chains and his new assistant art figures. The Ewing mask was on display and he also did a live chop of Jordan Olympic 7s! Of course we brought some of our latest 8and9 releases. Short and long sleeve tees moved quickly and a lot of customers bought our new jogger sweats, you can never go wrong with those.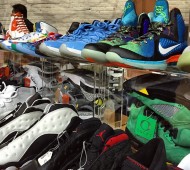 I brought a little cash with me to shop, but as usual, I didn't have the time to really put in the effort needed to catch a good deal. A few things caught my eye but I wasn't willing to pay what people wanted. I also had no trade bait with me. Being that I caught the Fear 5s, and the DB3's at the last two Sneaker Cons I've been a bit stingy with my cash, lol. Our next stop is NYC so I'm going to make sure I have plenty of kicks with me, I may just get a table just for sneakers. Stay tuned! #8and9life