Strong Hold Shop 8and9 Pop Up
Strong Hold Shop is a streetwear store located in Bloomfield, NJ that carries 8and9 and the most exclusive streetwear available. They focus on bringing exclusive items in limited quantities and delivering excellent customer service. You can always find the latest 8&9 releases at both Strong Hold Shop locations.
Strong Hold Shop 8and9 Pop Up
Our latest Pop Up Shop took place at The Strong Hold Shop Bloomfield New Jersey. Strong Hold Shop released their collaboration cd titled "Champagne and Gold Chains" which featured local artists and dj's. The event was hosted by Dj Bobby Trends and sponsored by 8&9 and Belaire. The event was jammed packed throughout the day and night. Photos by King Cleezy
Strong Hold Shop 8and9 Pop Up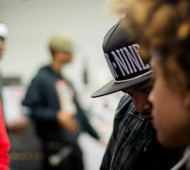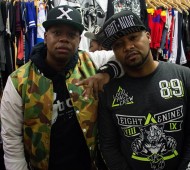 Shout out to everyone who came out and showed love and support for this event and movement. It was great chopping it up with everyone. Big shout out to Kush Kelz, Rico Fuzz, DJ Bobby Trends, Mikey Strong and the Strong Hold Shop staff! Catch you at the next Pop Up Shop!
Strong Hold Shop is a men's streetwear and premium brand retailer based out of Bloomfield, New Jersey.  We provide our community and the surrounding areas with street driven apparel & footwear from all over the world.  We pride ourselves in not staying one dimensional in the brands or pieces we carry.  The brands in the shop have aesthetics that originate from skate, surf, hip-hop, rock, sport, tattoo, graffiti, and other types of street certified cultures.  Even though at times we are eager to carry a basic, clean, neat, and grown up piece, our true passion is having the newest, dopest, and overall most artistic pieces we can find.  We  insist on carrying brands that cater to as many cultures as we do at the shop while also having the same principals of community, togetherness, and the overall hustler spirit that Strong Hold Shop relies on.
Besides catering to our very unique and loyal customer base we enjoy working with the community and local businesses to help bring the community together and encourage business development.  Strong Hold Shop has worked with many different groups and organizations since it's creation and will continue to do so in the future.  We encourage the entrepreneurial spirit and the basic ideal that continuous hard work will bring you to the success of your dreams.
Mikey Strong Hold, Founder/C.E.O.
Strong Hold Shop