8and9 At Jimmy Jazz Southern Blvd
As you may know by now, 8&9 Clothing can be found at many Jimmy Jazz locations. Jimmy Jazz debuted its first store over 20 years ago on Delancy Street in Manhattan. Since then Jimmy Jazz and subsidiaries have opened over 170 stores on major streets and malls in the United States, which includes over 30 in the New York Metro area. Jimmy Jazz stores feature streetwear , premier lifestyle, and footwear brands including Nike, Jordan, Adidas, Polo Footwear, Levi's and much more. We're very proud to have 8&9 Clothing stocked in these locations! Today we'll take a look at the Southern Blvd store.
Winter 2014 Boston Bruins inspired alternate black long sleeve jersey. Forever in the trenches.  Huge Squad 89 back print.  Classic black and white detailing. Striped front and back with jumbo sleeve hits. Clean, easy match for multiple releases!  This one is moving fast so don't sleep!
This one is for all of our smokers and pushers. Heavyweight construction for Fall '14. OG Gas Jersey Long Sleeve Tee in USPS color scheme available now. Check the details! Grab this now while supplies last!
Last but not least, we have our CSKA graphic in a wolf grey color scheme. This color way is perfect to match the Wolf Grey 3s and the Jordan baron 9 and 13 releases. Simple, clean, in stock and available now at this Jimmy Jazz location. These are 3 of the most popular styles carried by this location, but there are a few more that you can buy by visiting the store.
8and9 At Jimmy Jazz Southern Blvd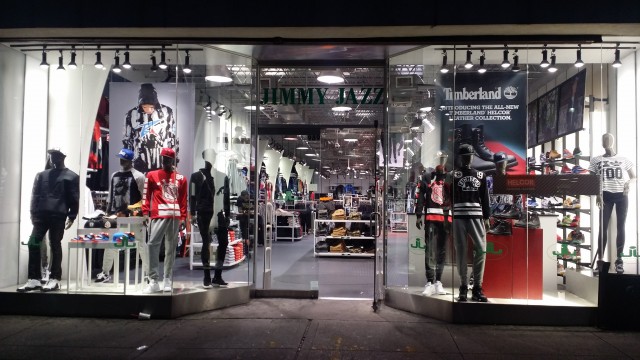 The Jimmy Jazz Southern Blvd location has a good amount of long sleeve tees in stock for Fall. Remember these items are available while supplies last. Restocks happen from time to time but each location is different so the best way to ensure you get your size is to visit the location asap. Get 8and9 at Jimmy Jazz Southern Blvd location.
The post 8and9 At Jimmy Jazz Southern Blvd appeared first on 8&9 Clothing Co..