@MiamiIronside Join the 8&9 Clothing staff on Wednesday December 3rd from 7pm-11pm for Miami Ironside yearly event Campus Collective. All details below.
This December Miami Ironside explodes into an art and design mecca on the Upper Eastside for an 8-day activation featuring bespoke art exhibitions, a FIAT 500 showcase by official automotive partner FIAT USA, lounge by iconic designer Ron Arad for Italian artisan-company Moroso, panel discussions, music performances, Mindball Interactive Gaming Experience, and catered events by celebrated Italian restaurateur Tommaso Morelato of Toscana Divino. The weeklong event will offer art and design patrons a creative escape and meeting point to socialize and exchange creative thoughts and ideas amongst industry friends.
November 30-December 7
Open Daily: 11am-6 pm, unless otherwise noted
RSVP at www.designweekmiami.com
Mindball Interactive Gaming Experience | Daily
Ron Arad Moroso Lounge
A unique gaming experience that goes against the conventional competitive concept of physical activity and adrenalin – teaching focus and relaxation techniques, a player channels electrical activity in the brain via a biosensor system to move a ball to the opponent's side. Mindball is an exciting and social game where the audience watches the ball, players' physical cues and brain activity graphics on a monitor. Mindball was created for science centers attracting interest of mainstream customers, including The Coca Cola Company, Nike Inc., WIRED Magazine, Massachusetts Institute of Technology (MIT), Barclays Bank and BBC.
Stars, Stars, All Eyes: Artist Bill Dunlap | Daily
Miami Event Space
Swerdlow Art Group presents nationally acclaimed American artist Bill Dunlap in his first solo show in Miami. After his sold out group show at Lazarides Gallery in London, this emerging artist brings his bold, graphic and emotionally raw images to Miami Ironside. Show runs through December 14.
STANDSEVEN: Pop-Up Design Shop | Daily
Launched during London Design Week, Standseven – an online shop that offers high-end design products that create social impact – provides an exclusive pop-up design shop experience through out the week.
** Special Events **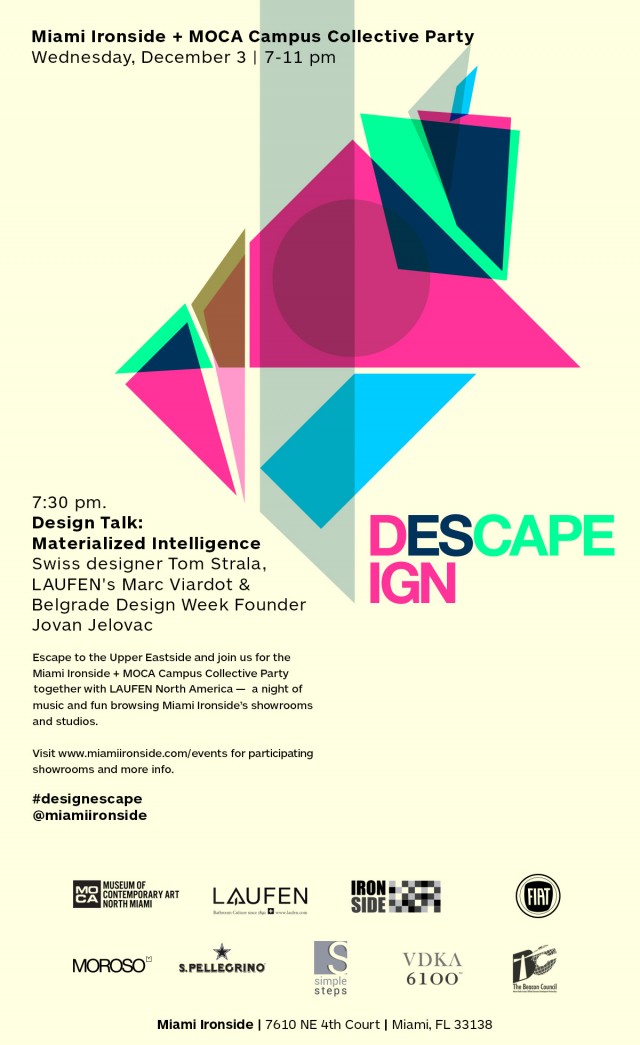 WEDNESDAY, DECEMBER 3
MOCA Art Talk: Artist Bill Dunlap | 10 am
Ron Arad Moroso Lounge
Part of their weeklong art talk series, MOCA North Miami presents a morning conversation with artist Bill Dunlap.
Miami Ironside + MOCA Campus Collective Party | 7-11 pm
Miami Ironside creative community opens their showrooms and studios for a serenading night of creative and social opulence, music and performances. The event is hosted with the Museum of Contemporary of Art North Miami Upper Level Members.
Design Escape Talk: Materialized Intelligence | 7:30 pm
Ron Arad Moroso Lounge
Swiss designer Tom Strala, LAUFEN's Director of Marketing and Products Marc Viardot, and Belgrade Design Week Founder and Curator, Jovan Jelovac.
Participating showrooms: LAUFEN, Simple Steps, Rajana Khan, Robicara Design, Stephanie Odegard Collection, Riitta Klint Studio, Lesley Litrento Studio, Antico Stone & Tile, COVERINGSETC, Porta Romana/ JBI Agency, Rimonim Art Gallery , Morphoto Inc., KZ Architecture, WILDCHILD WORLD, 8&9 MFG., Imperio JP, Puropapel
THURSDAY, DECEMBER 4
Design Escape Talk: The Future of Design | 11 am
Ron Arad Moroso Lounge
Alastair Gordon, WSJ contributing editor of Design and Architecture, leads a thoughtful discourse on designing the future with Ron Arad and Patrizia Moroso.
Satellite Exhibits
E-Boy Miami Pixorama
December 3 – Projection at the InterContinental Miami
Marseille, France digital artists E-Boy create a gigantic digital Pixorama of the Miami's iconic Skyline landmarks, and includes the Miami Ironside's iconic Berlin-Wall statues by street artist Thierry Noir.
Thank you to our 2014 Supporters:
Official Furniture Partner
Moroso
Official Automotive Partner
FIAT USA
Campus Collective Partners
LAUFEN Bathrooms
Simple Steps
COVERINGS ETC
Design Supporter
The Watergate Hotel
Cultural Partners
MOCA North Miami
Beacon Council
Official Sparkling Water Partner
San Pellegrino
Official Vodka Partner
VDKA 6100
Catering Provided By
Toscana Divino
Ironside Pizza