Sneaker Con NYC December 2014 Recap
The 2014 Winter installment of Sneaker Con NYC was an epic event to say the least. The NYC events are always jammed packed and are sure to have a variety of choices for any sneakerhead or streetwear shopper. This time around our friends over at Sneaker Con took their talents to the Jacob Javitz Convention Center North. Sneaker Con introduced a new attraction to the show called "Legends". The first installment of Legends featured Penny Hardaway and Jeff Staple. 300 lucky people were able to get items signed by Penny Hardaway. Patrons also had access to a Jeff Staple meet and greet. Sneaker Con added a new Trading Pit area where you could post up and do your thing if you weren't able to get a table. Looks like this will be the new home for Sneaker Con NYC so stay tuned for the next event! Check out a few pics from the event shot by @kingcleezy and a breakdown of what we had going on during the show!
Sneaker Con NYC December 2014 Recap
If you have been following us on our travels with Sneaker Con this year, you would know we've been putting together Freehand x 8&9 Sneaker Con t shirts for all of cities visited. First NYC, Atlanta, then DMV, Chicago, and now back to NYC. We produced 200 pieces of this limited edition tee, only available at the show.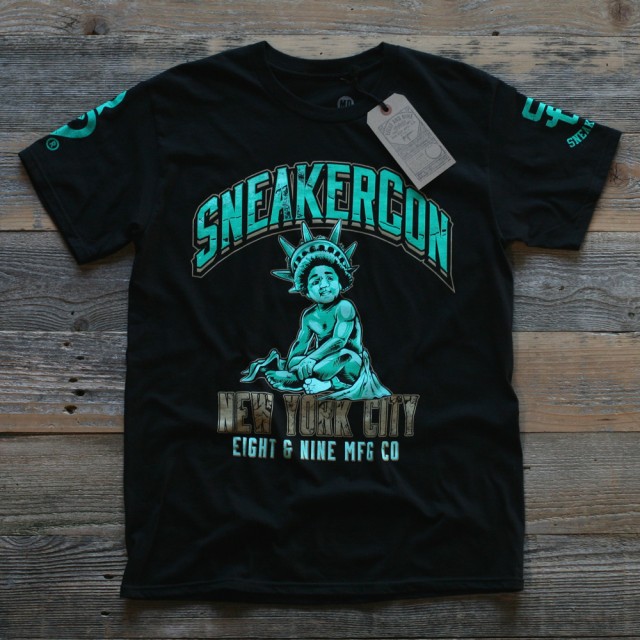 8&9 Clothing was a part of the Retail Alley section of the event. This space is reserved for retailers like Jason Markk, Staple, Rastaclat, Sneaker News and of course 8&9. We featured our latest Fall merchandise and some classic sneaker match tees like Goons, and Always on Deck. We also had our good friend Freehand Profit at the booth with his latest product, the ODB Lebron 9 mask, and the Ewing 33 Hi mask. The Live chop of another pair of Red Ewing 33 Hi took place at 3pm at the 8&9 booth.
Many important people from the sneaker culture stopped by the booth including DJ Clark Kent. We would like to thank everyone for stopping by the booth, purchasing items, and hanging out with us at the event. Our next stop is Houston, stay tuned!!
Sneaker Con NYC December 2014 Recap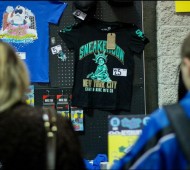 Click here to view the embedded video.
The post Sneaker Con NYC December 2014 Recap appeared first on 8&9 Clothing Co..